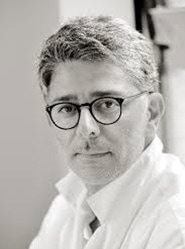 Dr Philippe Azria
Head Doctor
Health check-ups are supervised by Dr Philippe Azria.
Health check-ups are completed as a preventive measure with the assistance of all of the hospital's medical and paramedical staff and access to all of the Hospital technical platforms.
Paris Saint-Joseph Hospital Group proposes two approaches :
Pre-defined content check-ups : for example, targeting cardiology with all of the related tests (cardiac ultrasound, ECG, cardiologist consultation)
Personalised check-ups, suited to each case, depending on medical antecedents or specific problems. This type of check-up requires a half-day and may involve a number of different medical specialisations.
We are at your service to adapt to your needs. Doctor Philippe Azria, deputy head doctor of internal medicine, will evaluate your request and propose a series of targeted and personalised tests in response.
The content of these check-ups and their cost will be confirmed in advance by the relevant health insurance body.
Important figures
Leader in France for the treatment of glaucoma
2,000 surgical interventions, including over 900 glaucoma operations
18,000 consultations and 1,000 laser treatments (glaucoma)
The application procedure
Send your request to bilansante@ghpsj.fr
We will respond with Doctor Azria's recommendations and a personalised proposal in less than a week.
Techniques used
Blood and urine tests
X‑rays
Scanners
Ultrasound (abdominal, urinary tracts, thyroid, heart, etc.)
Cardiac stress tests
Consultations with all of our specialists