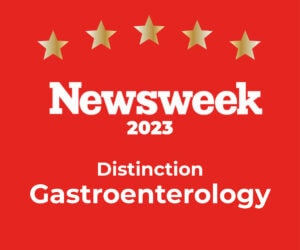 The hepatogastroenterology and digestive endoscopy department in Paris is managed by Dr Olivier Marty.
The department includes a 17 bed hospital ward, an outpatient clinic, an endoscopy unit with 2 rooms for colonoscopies and endoscopies with or without biopsy, an interventional endoscopy theatre in the interventional technical platform (biliary endoscopy, placement of digestive prosthetics, etc.) and a 24 hour post-op recovery room (digestive bleeding).
The department is reputed for its capacity to provide a number of specific services including :
colonic polyp screening and treatment using colonoscopy, screening, assessment and treatment of digestive and oncologic (especially colonic) cancers in collaboration with the Digestive Tract Surgery, Oncology and Radiology department (weekly multi-disciplinary consultations),
the diagnostic and treatment of benign and malign pancreas, liver and biliary tract tumours,
the treatment of inflammatory conditions affecting the major intestine (Crohn's disease, ulcerous colitis).
Important figures
3,300 hepatogastroenterology admissions (excluding endoscopies) per year
3,200 digestive and biliary tract endoscopies per year
A team of 20 doctors and nurses
The main diseases treated
Techniques used
Diagnostic and therapeutic gastric fibroscopy with or without anaesthetic
Diagnostic and therapeutic colonoscopy
Diagnostic (biopsy) and therapeutic gastric and bilio-pancreatic echo-endoscopy
Interventional endoscopy : prosthetics, dilations, catheterisation of biliary tracts and sphincterotomy, endoscopic gastrostomy
Liver biopsy using ultra-sound
Videocapsule survey of the small intestine