Thoracic Surgery and Heart-Lung Transplants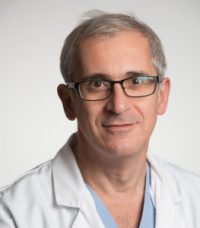 Pr Elie Fadel
Head Doctor
The Thoracic surgery and heart-lung transplants department is managed by Professor Elie Fadel.
The heart and lungs are vital organs which have been the subject of some of the most important medical advances of recent times.
The Thoracic vascular surgery and heart-lung transplant department concentrates its efforts on non-cardiac chest surgery, vascular surgery, lung and heart-lung transplants and post-embolic pulmonary hypertension surgery.
With more than 2,000 surgical interventions, Marie-Lannelongue Hospital is one of the world's leading hospitals for the number of non-cardiac thoracic surgery interventions it completes. And the same applies to organ tissue removal for grafts and collaborative surgical operations with other affiliated hospitals.
The pleuropulmonary surgery unit includes conventional pleuropulmonary surgery (pulmonary resection, pleural surgery, etc.). It relies increasingly on the complex or original cancer-related surgical procedures developed by Marie Lannelongue.
Patients come from all over France and abroad for exeresis surgery on bronchopulmonary tumours affecting the tracheobronchial branching, the upper vena cava, the thoracic aorta, the thoracic wall or the pleuropulmonary apex, often under CPB. Multi-disciplinary approaches are systematically proposed for interventions on pulmonary metastases, digestive and genital cancers, bone and soft tissue sarcoma, etc.
Tuberculosis side-effect surgery or complex pulmonary aspergillosis operations are generally referred from other French University or Regional Hospitals since only a few surgical teams like the one at Marie Lannelongue have the necessary experience for this type of intervention.
Tracheobronchial plastic surgery (resection reconstruction of the bronchial axis after lobectomy) is also performed by the department which has become a specialist in the domain. The department staff have developed techniques capable of significantly reducing the number of pneumonectomies replacing them with enlarged lobectomies including bronchial and vascular reimplantation in the mediastinum.
Important figures
2,117 interventions per year (2020)
47 lung transplants in 2020
10% of the hospital's surgical interventions
The main diseases treated
Lung cancer
Mediastinum tumours
Primary or secondary thoracic wall tumours (sternum, ribs, vertebral extension)
Tracheal conditions (post-intubation stenosis, congenital stenosis, primitive trachea tumours, tracheoesophageal fistula extension to the tracheobronchial branching of bronchopulmonary tumours)
Tracheoesophageal fistula
Post-embolic pulmonary hypertension
Emphysematous conditions
Techniques used
Pleuropulmonary surgery
Mediastinal tumour surgery
Thoracic wall surgery
Tracheolaryngeal axis surgery
Tracheoesophageal fistula
Surgery on tumours affecting the thoracic outlet
Acute and chronic pulmonary embolic disease surgery
Functional respiratory failure surgery
Pulmonary endarterectomy
Lung transplant
Interventional endoscopy : Endobronchial ultra-sound (EBUS)