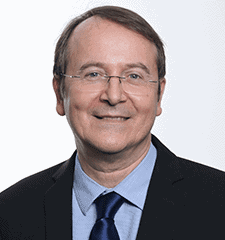 Pr Eric Raymond
Head Doctor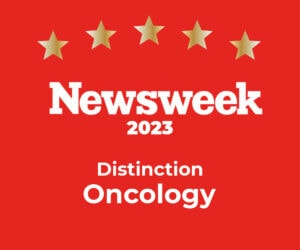 The oncology department of Paris Saint-Joseph Hospital is managed by Professor Eric Raymond.
The oncology department treats almost 1 200 cases of cancer each year in Paris. It provides a peaceful environment with constant support from its caring medical and nursing staff.
The treatment on offer prioritises humanism and quality above all. The department provides a complete service able to support the patient throughout their treatment thanks to specialist and personalised care programs. The department makes every effort to show consideration for the diverse range of situations encountered.
It can treat all types of cancer : digestive tract, ENT, male genitalia, breast, respiratory, urinary tract, female genitalia. Proposed care programs are tailored in collaboration with the patient who is regularly informed of the major treatment stages throughout the care procedure.
The coordination of care within the hospital is provided by a nurse-coordinator. They ensure that treatment is monitored in close collaboration with the patient's referring doctor. The department can also further meet the patient's personal needs by proposing support care, inter-treatment monitoring and personalised support for their return home once the cancer has been treated.
The medical and surgical activities of its modern and innovative technical platform (imaging, operating theatre and laboratory) are also available.
And its research activity opens up possible access to clinical trials and emerging therapies. Unlike the major French hospital groups, the cancerology department has its own care procedures with the highest level quality control and the material and human resources necessary to undertake new and innovative therapy trials. A number of international and European academic research groups have already completed trials at the Hôpital Paris Saint-Joseph.
Important figures
1,200 patients treated per year
12 doctors/oncologists and oncogeriatricians, 3 psychologists, 1 dietician, 1 socio-beautician
110 oncology clinical trials under way
The main diseases treated