Orthopaedic and Trauma Surgery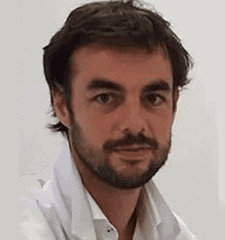 Dr Guillaume Riouallon
Head Doctor
Paris Saint-Joseph Hospital orthopaedic and trauma surgery department is managed by Dr Guillaume Riouallon.
This department is specialised in treating pelvic fractures.
Even if most of its patients are admitted directly to Paris Saint-Joseph Hospital (orthopaedics or reanimation department) as emergency cases or transferred from other hospitals which do not have this specialisation ; patients may also be admitted from further afield when the fracture could not be dealt with correctly at first.
Paris Saint-Joseph Hospital has a team of 11 orthopaedic surgeons with significant expertise in this very specific domain ; they work alongside intensive care anaesthetists, vascular surgeons, radiologists, anaesthetists and urologists. Together they are able to apply a global approach to the treatment of complex trauma cases.
The department also has cutting edge technical resources including the latest generation imaging tools. Paris Saint-Joseph hospital was the world's first hospital to apply this innovative technology for acetabulum surgery.
Important figures
2,800 surgical interventions per year including more than 400 spinal and 85 acetabulum surgery interventions
14% of the hospital's surgical interventions
A team of 11 orthopaedic surgeons
The main diseases treated
Spinal, long bone (femur or humerus) and articular extremity (tibia, wrist, acetabulum) fractures.
Ruptured tendons : Achilles tendon, extensor digitorum tendon
Ligament damage — sprains : knee, ankle, cervical spine.
Sectioned nerves or tendons caused by deep wounds
Osteoarthritis : hips, knee, ankle, foot, shoulder, elbow, wrist, fingers. For which we propose prosthetics to replace the affected joints ; or sometimes arthrodesis, the blocking of the joint. The orthopaedic surgeons also treat the complications that can arise with prosthetics, notably due to wear and infection.
Deformations that can be corrected : a deformed or badly set arm, leg, or foot with hallux valgus.
Tendon wear or rupture, damage to meniscus : shoulder, elbow, knee. In this domain, arthroscopy has taken on significant importance since it allows for the use of mini-invasive repair surgery techniques.
Nerve compressions of the upper limbs : cubital nerve in the elbow, median nerve in the wrist.
Techniques used
Spinal surgery : disc hernia, arthritic spinal stenosis, surgery on major malformations such as scoliosis.